How YOU can get involved!
Check back frequently for more information, or subscribe to APP's email newsletter to get up-to-date information on how you can assist us to win a reprint of these very popular and important stamps!

The American Partnership for Pets (APP) is thrilled to announce that thanks to the enthusiastic support of people like YOU, the Neuter/Spay stamps were one of the US Postal Service's fastest selling stamps, and as of October 2003 the commemorative stamps are sold out in central distribution! This means that the USPS has shipped out all 250 millions stamps directly to the public, or to local post offices.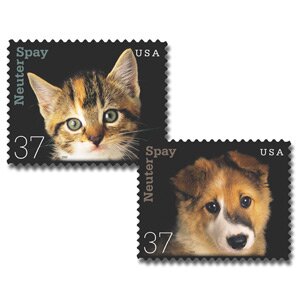 As APP has heard that most local post offices have sold out, re-ordered and sold out again and again, we assume that as of October 2003, there are few, if any, stamps left for purchase at local post offices.

This is a tremendous accomplishment, given the extraordinary and generous 250 Million print run of these stamps. The average print run for a social awareness stamp is 150 million, and other commemorative stamps average 80 million.

Special Note: Commemorative stamps are not intended to be printed in quantity. They are limited editions made available for a limited time period only. American Partnership for Pets is therefore extremely grateful to the USPS for their support in issuing a whopping 250 MILLION stamps! It is very rare for a commemorative stamp to be reprinted. However, of course American Partnership for Pets believes that based on our support and the tremendous demand for these stamps, Neuter or Spay should be the exception! Read about our reprint efforts and how YOU can help below....


The short and long term goals...

The APP team hopes that now that we have demonstrated that we are a tremendous and broad based collaborative group with which to work, and that responsible pet care messages on stamps supported by the American Partnership for Pets are guaranteed blockbusters, the USPS will consider:
Reprinting the stamps
Issuing stamps with additional responsible pet care messages
Issuing a semi-postal (fundraising stamp) This is a long-term goal and will likely also take an act of Congress.
We are also hoping that with demonstrated demand for these very popular images, vendors and retailers will carry these images on a variety of USPS/APP licensed merchandise sold nationwide, thereby helping to raise awareness of the benefits of spay/neuter.

We are asking for your assistance once again to ensure that we demonstrate to the USPS how much we CONTINUE to value and support their stamps and products.

We know that all this won't happen overnight, and APP has a long-term plan to achieve these goals. However for the immediate future, a reprint of the stamps is most certainly a realistic, albeit difficult, goal and it is our first focus.

Note: If reprinted in sufficiant quantity and sold out again (Elvis holds the record of the highest print run at 517 million), we may well be able to set the record for the most commemorative stamps printed/sold in USPS history!



How YOU can get involved!
Ensure Every Last Stamp is Sold!
---
As of October 22, US Postal Service central distribution had sold out of the Spay/Neuter stamps. There may be a few local post offices with stamps available. Please visit your local post office and ensure that every last stamp is purchased!

Save Your Souvenir Sheet!
---
The US Postal Service benefits when collectors save stamps instead of using them! (There are lots of creative ways to use the saved sheet of stamps to raise awareness, such as framing and displaying them in public place!)

If you don't have any stamps left and would like a souvenir, a few stamps may be available for resale through APP community partners (your purchase benefits their work), stamp dealers, online auctions, etc.


Continue to Demonstrate Support for USPS Products
---
In addition to saving and using the purchased stamps, we are asking Americans to demonstrate to the USPS that we not only continue to value their stamps, but also support their spay/neuter stamp products, and their great effort to develop SN commemorative products by licensing vendors and retailers who will support our work!

The complete collection of APP/USPS licensed merchandise may be purchased from:


Samantha and Kirby stuffed look alikes with SN stamp tags!
www.wonderlandmarketing.com Or call -888-876-2451 (APP receives 10% of SN product retail sales through this website)


www.spayneuter.us (Shop Soon! APP receives 10% of all retail sales from this website until 12/31/03)


APP Community Partners (Note: not all partners carry the products for sale)
Link to the APP website
---
It is important for us to coordinate our efforts and ensure that information is accurate and up-to-date. Please don't forget to include a link to the APP website (americanpartnershipforpets.org) in your outgoing emails with stamp news, and on your websites.

APP will be updating information as it becomes available, and there's lots of information for people to find about the stamps, the partnership, spay/neuter and the reprint effort.


Subscribe to our free newsletter and receive action alerts
---
Receive up to date news on our work. Plus, we will need your timely support in getting these stamps reprinted and more! More ways to get involved
---
Caring Americans, shelters & rescue groups, community leaders, educators, community organizations, veterinarians, breeders, everyone can be an American Partner for our nation's pets! Learn more!

Together, we CAN raise awareness about spay/neuter as a part of responsible pet care, and help to end the tragedy of homeless animals!


Donate to the American Partnership for Pets
---
Learn how you can financially assist individual APP members, or the APP program and the reprint effort here


RESOURCES
---
Selling out 250 MILLION stamps and the collaborative reprint effort provides us all with another tremendous opportunity for media and program tie-ins to raise awareness about the benefits of spay/neuter. American Partnership for Pets will be providing you with promotional tools to download and use over the course of the stamp reprint effort. We are not expecting a postage increase until 2006, which gives us an exceptional opportunity to request a reprint.

(You will need the free Acrobat Reader to download .pdf files)
Please note: Trademarks and copyrights used herein are properties of the United States Postal Service and are used under license to American Partnership for Pets. All Rights Reserved. The American Partnership for Pets name and marks are also trademarked and may not be used without permission.